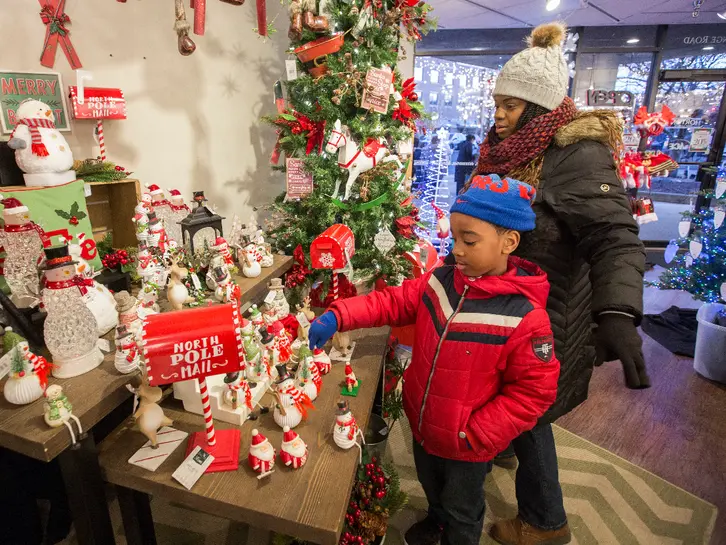 While you're tackling your holiday shopping list, it's important to remember that it matters where we spend our money.
In order for the local shops that we love to survive, they need us to spend money with them during the holidays, now more than ever. They're just waking up from a two-year nightmare. And for many independent retailers, holiday sales determine whether they will survive another year.
While it's certainly efficient to ask your loved ones what they'd like and then order it online from giant Amazon, this isn't the year for that. Supply chains are now snarled by logistical chaos from factory slowdowns, a shortage of shipping containers, cargo ships unable to dock, and not enough truckers to haul goods.
Maybe the supply chain problems are a good reminder for us to start browsing our favorite shops again, looking for the unexpected gift that's going to delight someone when they open it. Chances are good that you'll find it in the little shops that have managed to survive in the face of incredible obstacles by being creative and clever. The shops that know their customers by name – and sometimes know their birthdays, too.
Isn't it more pleasurable to browse the offerings of a store that's cozy and comfortable, with unique items that have been thoughtfully selected by a store buyer who knows the tastes of his or her customers? Wouldn't you want to hear about their local honey supplier who houses beehives in her backyard, or the local artisan who delicately hand paints ornaments? What more could you want than to shop in a store that's built on someone's dreams?
It might be the natural products store that creates its own line of aromatic essential oils. Or the tea emporium whose owner learned about the holistic benefits of tea leaves from his grandma. Or the gift shop at the art league that sells one-of-a-kind watercolors, the family-owned game store that gathers everyone around your table for Game Night, or the women's boutique that can fill your husband in on your tastes, your size, and your favorite candle scent. Every community has independently owned shops like these.
This holiday season, savor the delights of shopping locally – and spend at the stores where the people who work there have become your friends. And if you want to make gift-giving even easier, you can browse the La Grange Holiday Wish Book, an engaging digital catalog that highlights some of the top-selling gifts available at 26 La Grange businesses that you love.
Let's all shop with purpose this holiday season. The unique gifts that you're looking for are available right here in your neighborhood.
Nancy Cummings is the executive director of the La Grange Business Association, an organization that strives to develop effective programs, create new ideas and establish relationships that enhance the economic vitality of La Grange.